Blood gangs in Los Angeles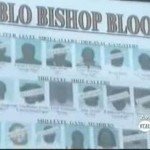 Some of the neighborhoods that eventually formed the alliance better known as the Bloods have been around just as long as the Crips in many cases. The Brims, Black P Stones, Denver Lanes, Athens Boys & the Pirus have all been active since 1969 and 1970. During those early formative years, these neighborhoods were independent organizations that did not have established rivalries and were not gangs in the way we think of street gangs today. As the various Crips sets in Los Angeles began to spread their influence, it was these neighborhoods that challenged Raymond Washington's movement and decided to maintain their original identities. By 1972, the Pirus, Brims, Black P Stone and several other neighborhoods began to fight with the Crips and the rivalry was born. It would be several more years before the Blood alliance was forged but by 1976 or 1977, all these neighborhoods were known as the Bloods.
There are roughly 70 Bloods sets County wide and they represent about 1/3 of the Black gang population in Los Angeles, being outnumbered significantly by the Crips. The Crips though have serious internal rivalries that nullify their numerical dominance and in some neighborhoods in Los Angeles, the Crip infighting is stronger than Crip vs. Blood rivalries.
Cities and places in Los Angeles County – Blood gangs
Carson [6 gang]
Compton [14 gangs]
Florence [1 gang]
Hawthorne [1 gang]
Inglewood [10 gangs]

Los Angeles [24 gangs]
Lynwood [1 gang]
Pasadena [3 gangs]
Pomona [2 gangs]
Rosewood [3 gangs]
West Covina